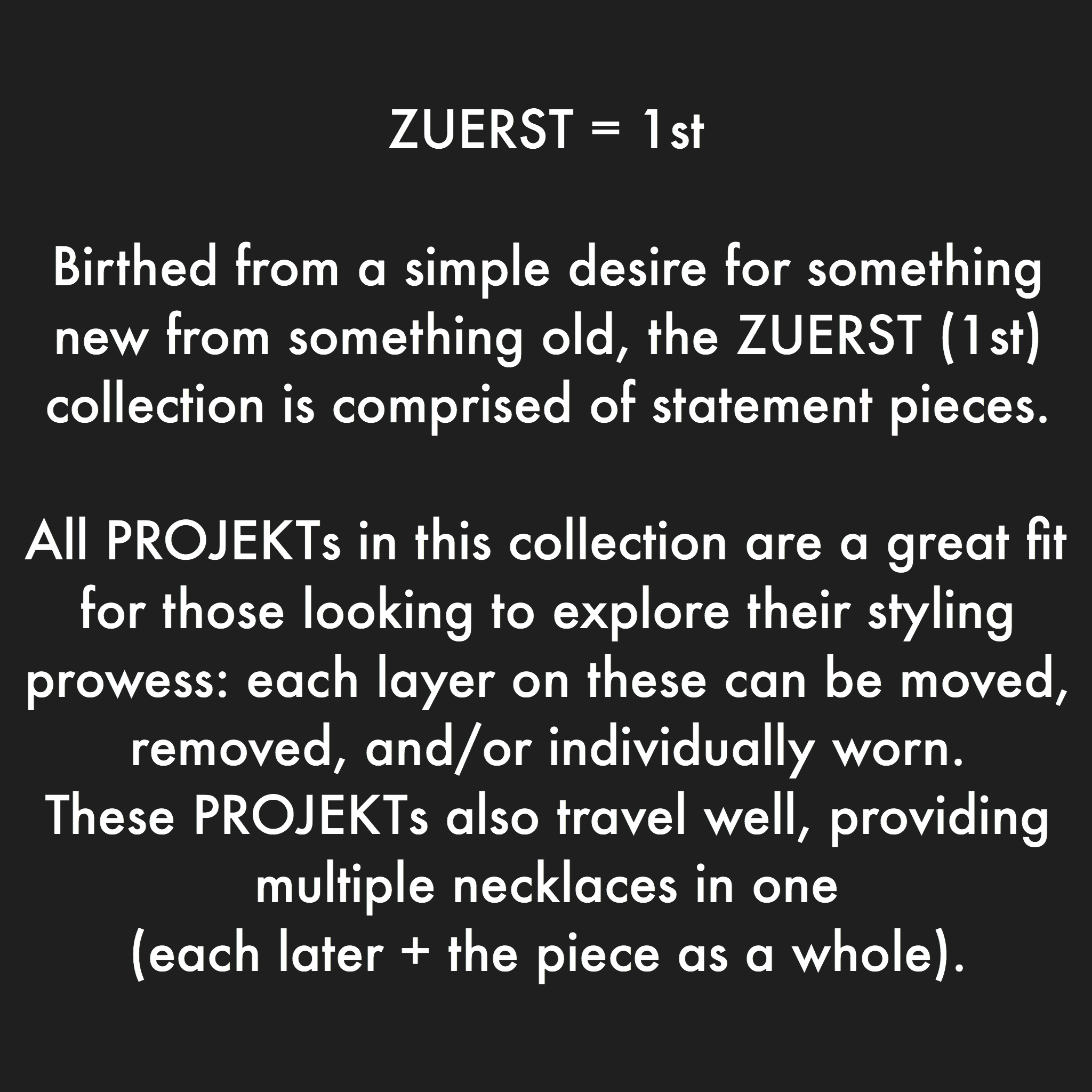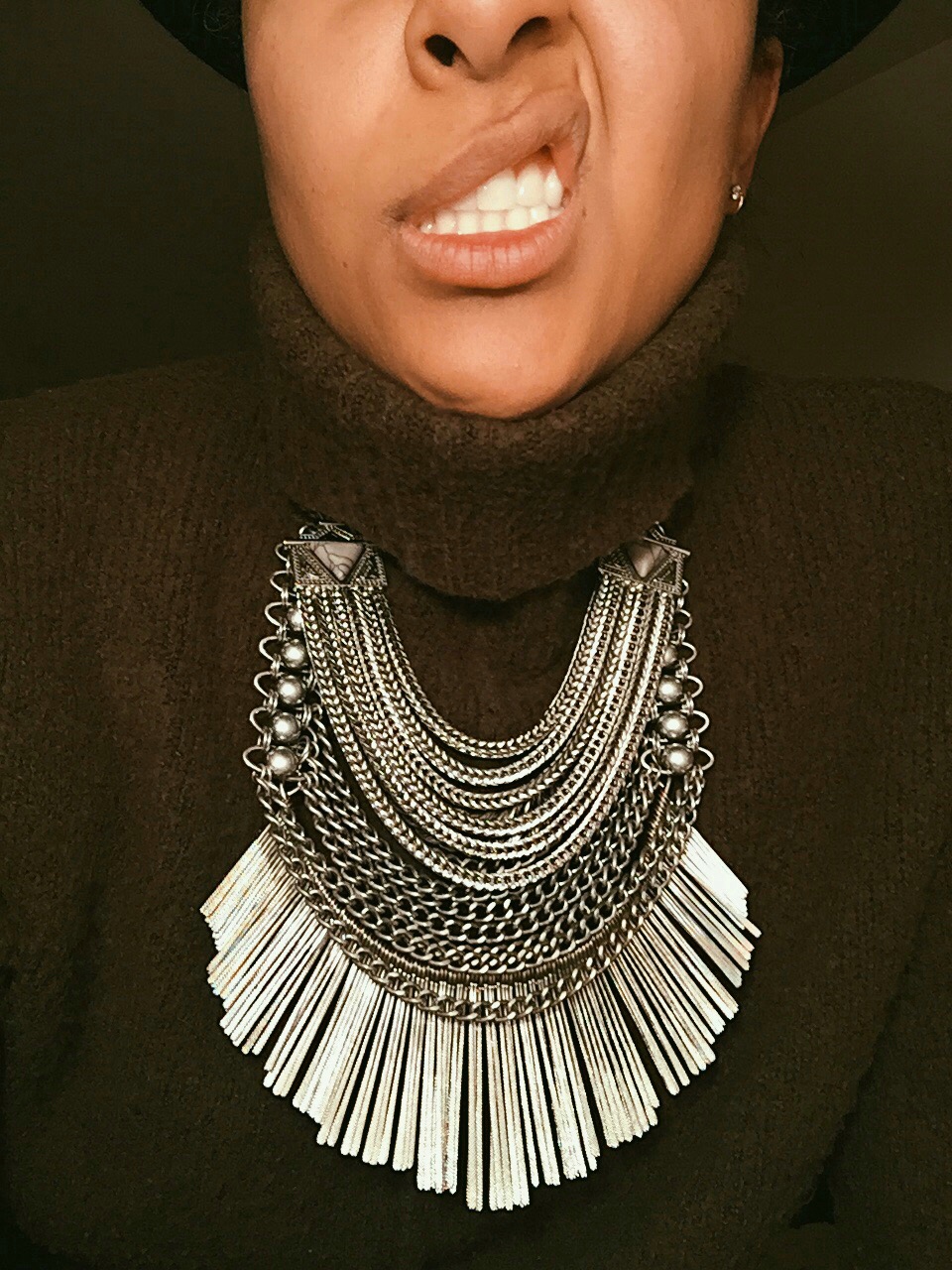 PROJEKT #1 - NFS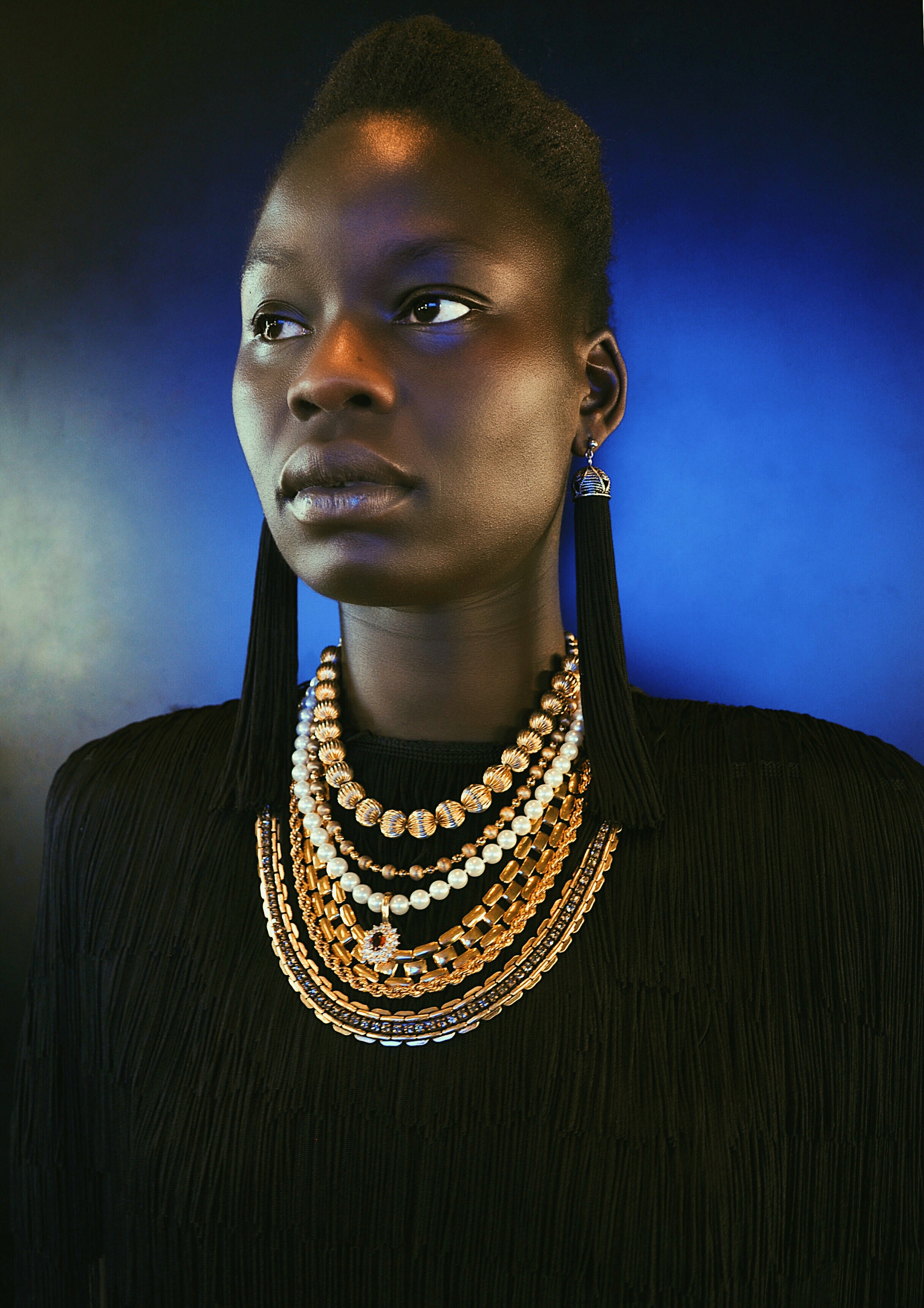 PROJEKT #2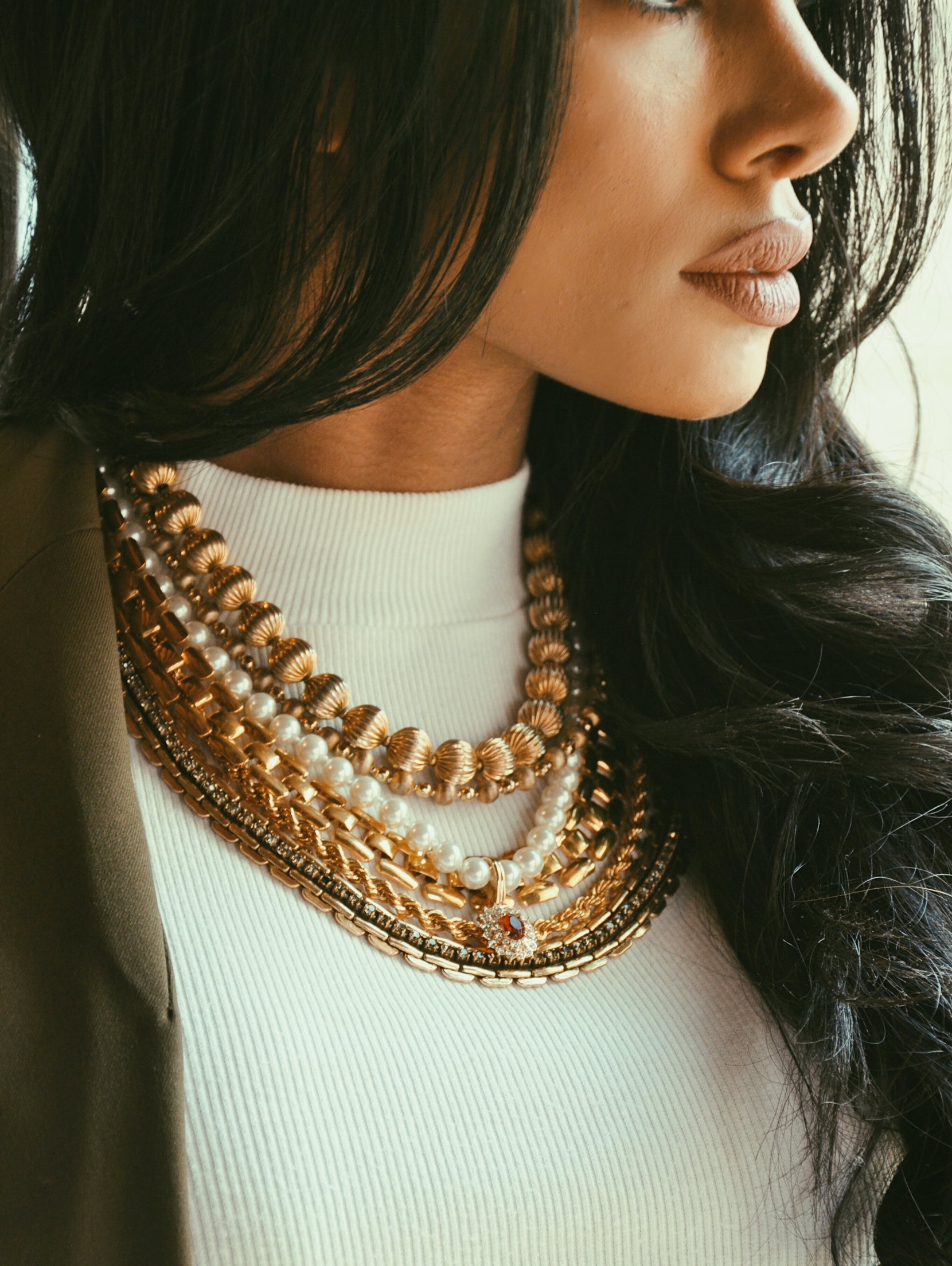 PROJEKT #2
PROJEKT #2
PROJEKT #2 is a 6-layer piece. This PROJEKT is a great fit for those looking to explore their styling prowess: each layer on this piece can be removed/moved around, or individually worn. As a result, PROJEKT #2 also travels well given that it provides a minimum of 7 necklaces in one (each layer + the statement piece as a whole).
PROJEKT #3
PROJEKT #3
PROJEKT #3 has a rare "Indian head" penny, featured in it as a lower hanging medallion on a gold chain that is removable as a unit if its owner would like to wear it alone.
PROJEKT #4
PROJEKT #4, also known as Old World Luxe, contains 5 pearly removable layers so you can wear as much or as little luxury as you desire!
PROJEKT #5 - WCJDIJPWD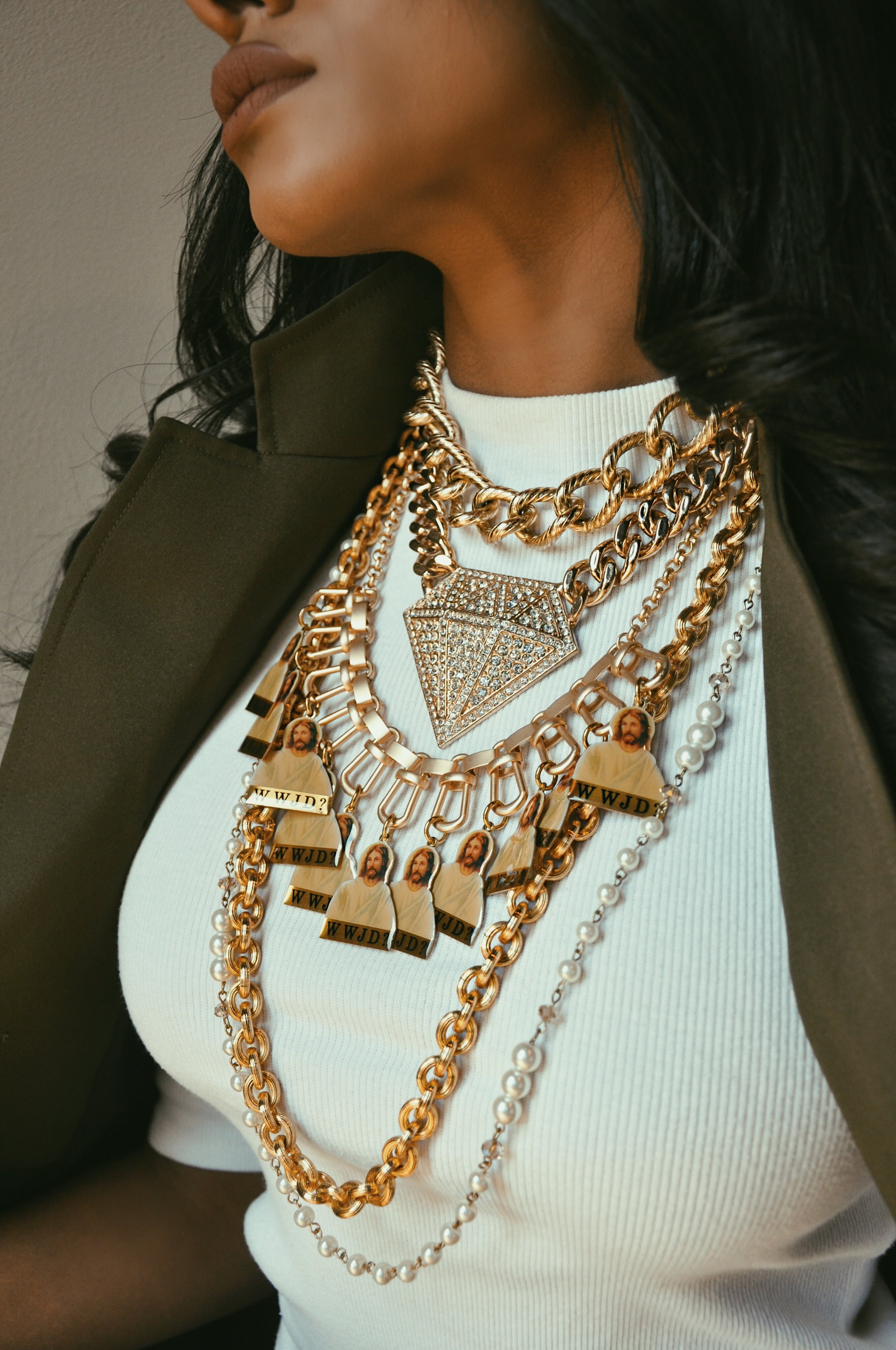 PROJEKT #5 - WCJPDIJPWD
PROJEKT #5 is a 5-layer structure, titled, "What Could Jesus' Piece Do if Jesus' Peace Would Do?"
With elements inspired by rosaries and the contemporary "WWJD" movement (What Would Jesus Do? charms), PROJEKT #5 stands as a work of art that can be worn or simply displayed.
PROJEKT #7 - Bishop
PROJEKT #7 - Bishop
PROJEKT #7, also known as "Bishop", is made of seven (7) layers, and is inspired by a mix of religious and royal motifs. This PROJEKT has the greatest variation in lengths between layers from the high crest layer to the low crystal and pearl layer.
PROJEKT #8
PROJEKT #8 - AVAILABLE - is the simplest statement style so far from the ZUERST collection. Though made of many chains, there are three main layers: the top with dangling discs, the middle with dainty chains of varied lengths, and the bottom layer that also supports the grated orb and tassel.
PROJEKT #9 - NFS
Inspired by beautiful Native American jewelry, PROJEKT #9 is one piece with two clasping-portions: the silver hair-bone bead choker and the lower blue stone drop.
#10
PROJEKT #10 - is comprised of 4 layers (the multi-layered chains are attached to the florets). Though fewer layers than many other PROJEKTs in the ZUERST collection, this piece provides weight for a wearer who appreciates the presence and awareness of a statement necklace.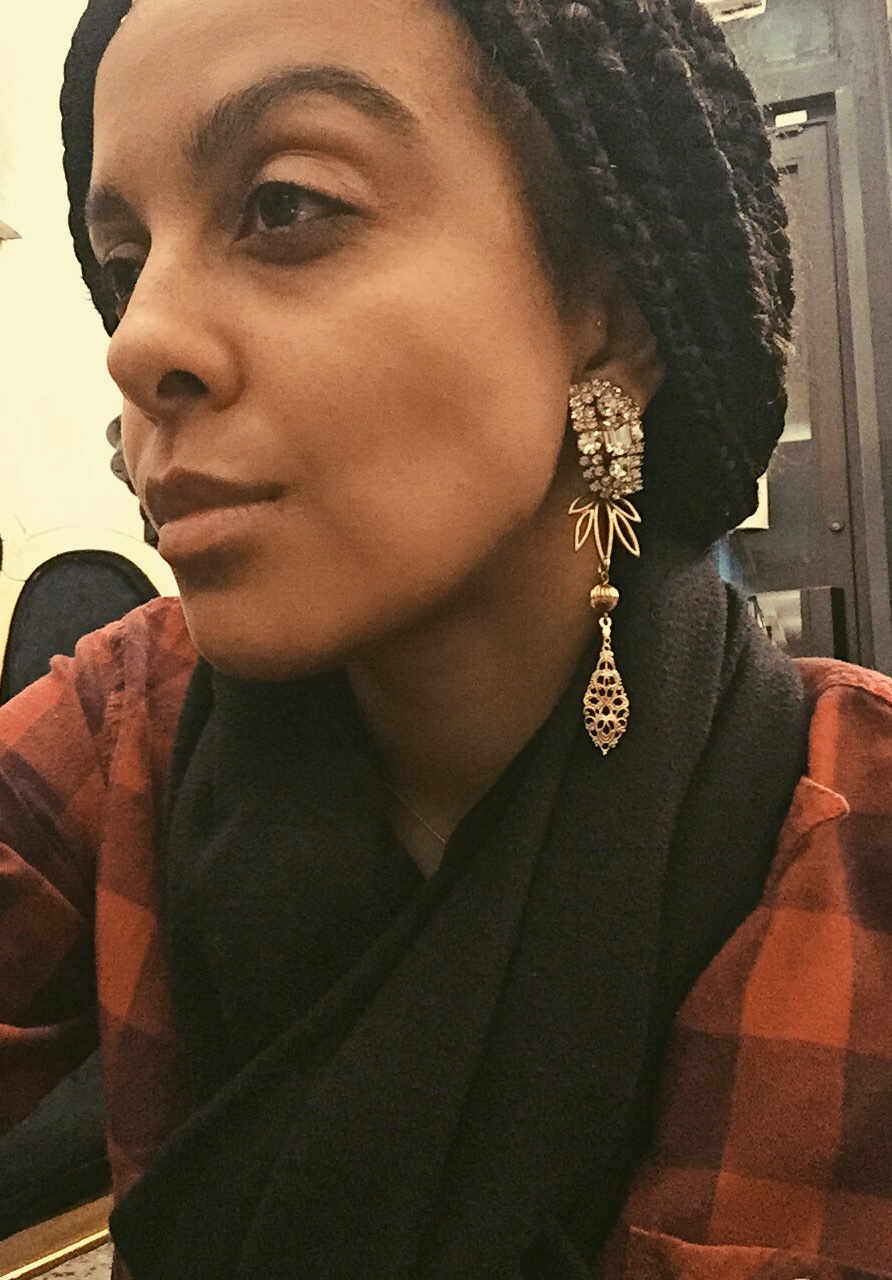 #20
PROJEKT #20 offers sparkle and shine for its wearer, with the comfort of a clip earring. Perfect for the holidays, these lovelies can be paired with a flannel or a LBD, easily transitioning from day to night!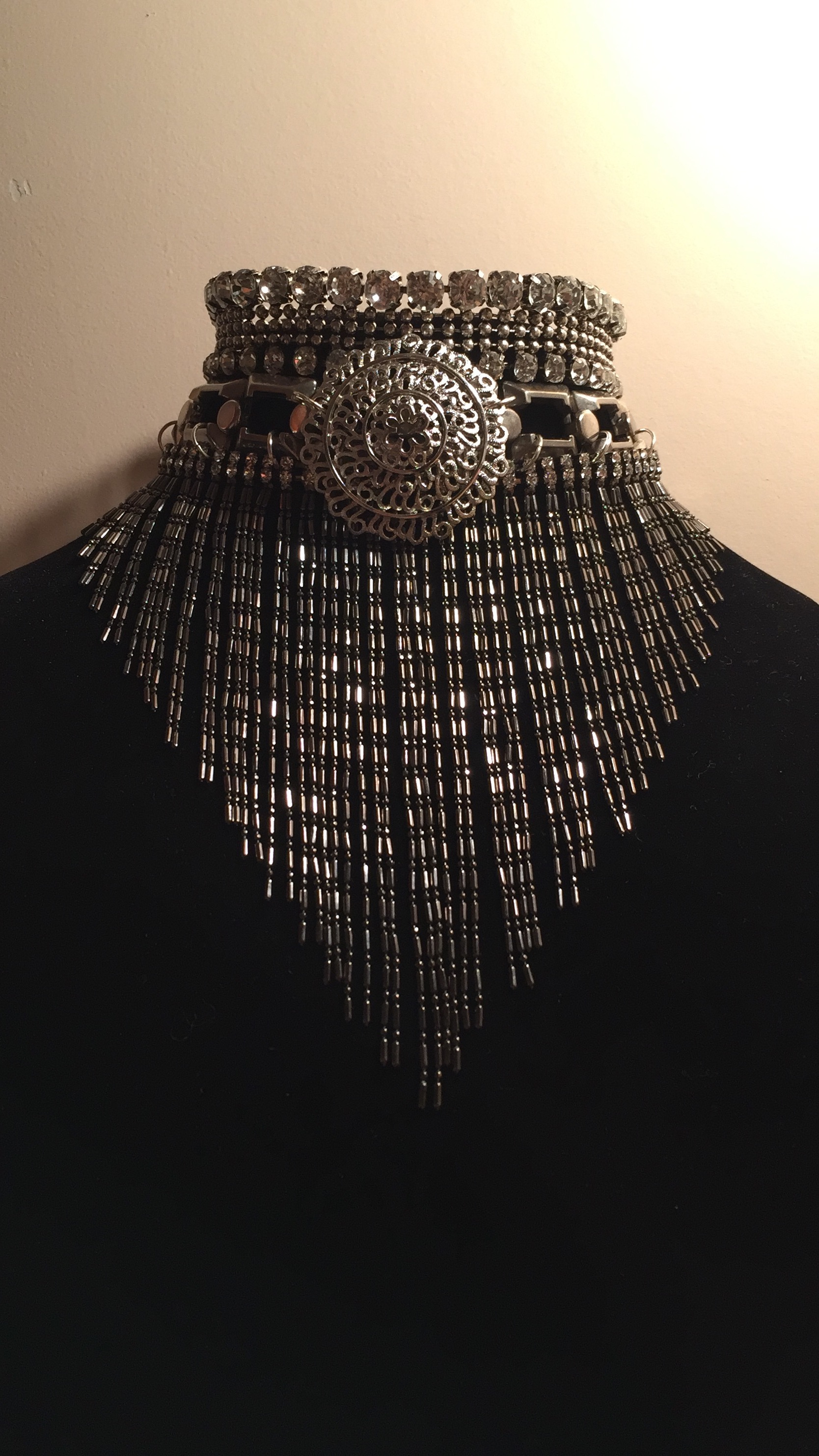 PROJEKT #25 - NFS
PROJEKT #25 - "Double Trinity" - NFS - was a piece I finished on my birthday, in honor of my birthday.
The B U I L D leading up to all of this was nothing short of amazing... I can wait for you all to see what unfolds in the coming months!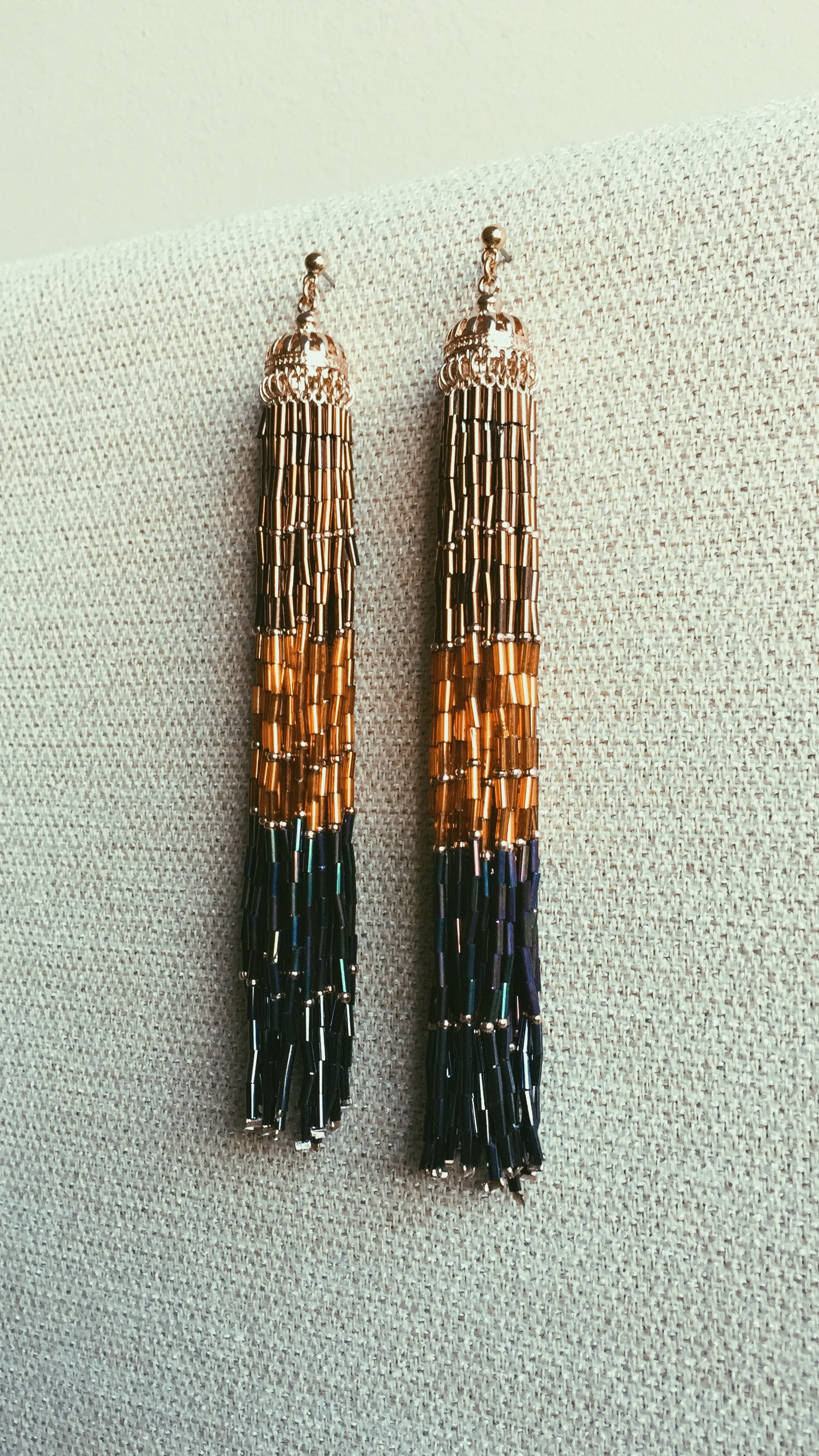 PROJEKT #26
PROJEKT #26
PROJEKT #26 is a pair of beaded tassel earrings in the ZUERST collection. Brushing the shoulders, these beauts have an iridescent coating on each color layer, moving from a top brown layer, into an orange/yellow/gold, and ending in a blue/green/purple. Yum.
PROJEKT #30
PROJEKT #30 - AVAILABLE - is a 6-layer gold and pearl statement piece. And who doesn't love a good tassel? Not considerably heavy, this piece is reasonable for day-to-day wear.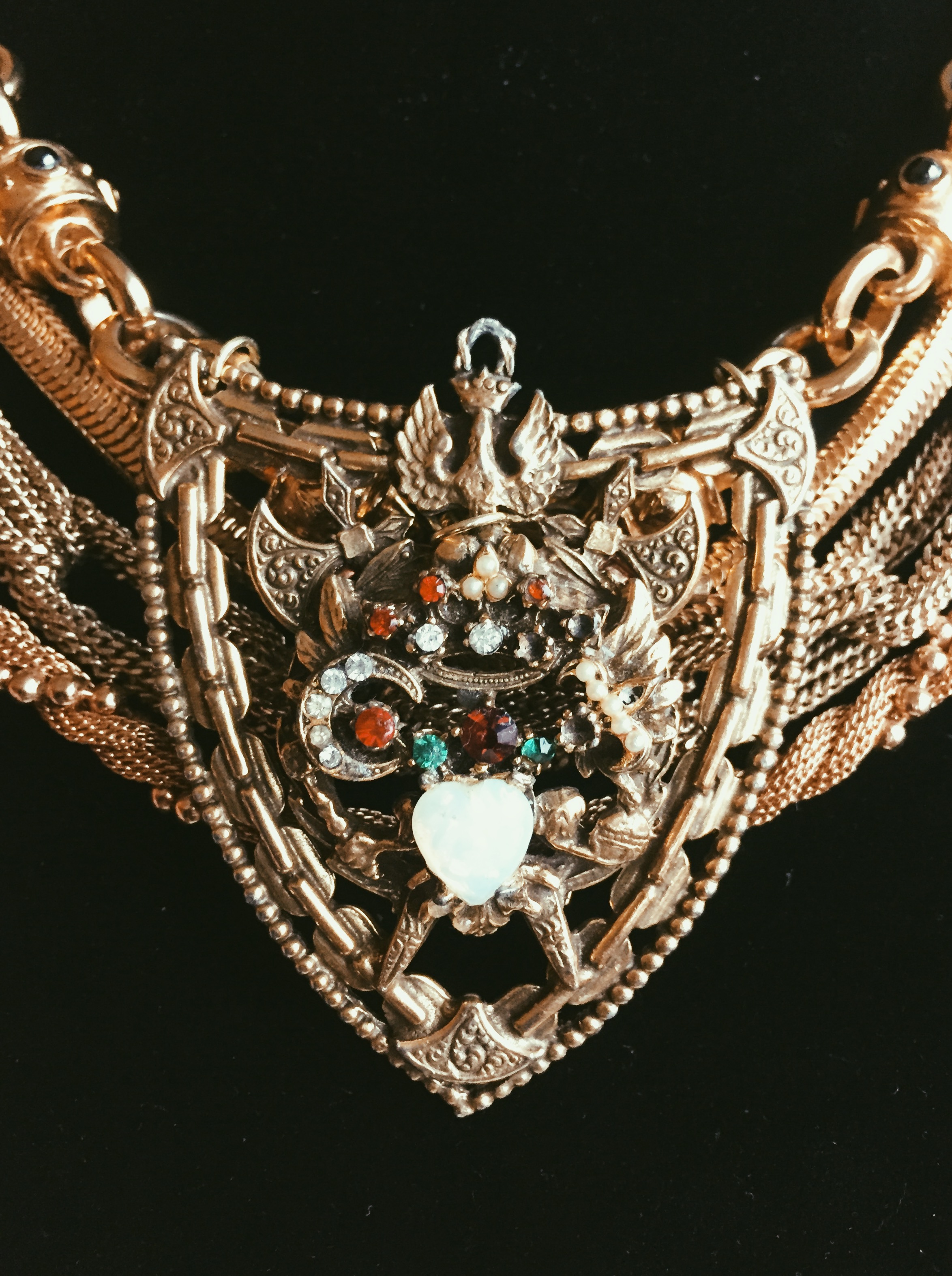 PROJEKT #31
PROJEKT #31 a gold 4-layer piece, is adorned by a large brooch. This PROJEKT has more weight (for those who like "meatier" pieces), and easily styles on top of a scarf.
Brooch details: antique crest brooch contains: pearls; red, clear, and emerald colored stones and what seems to be a moonstone heart!
PROJEKT #31
PROJEKT #32
PROJEKT #32 is a heavier pearl statement piece, with varied lengths: choker, mid-length, and long-line layers. With mixed metals, and a centered crystal brooch element, you can't go wrong!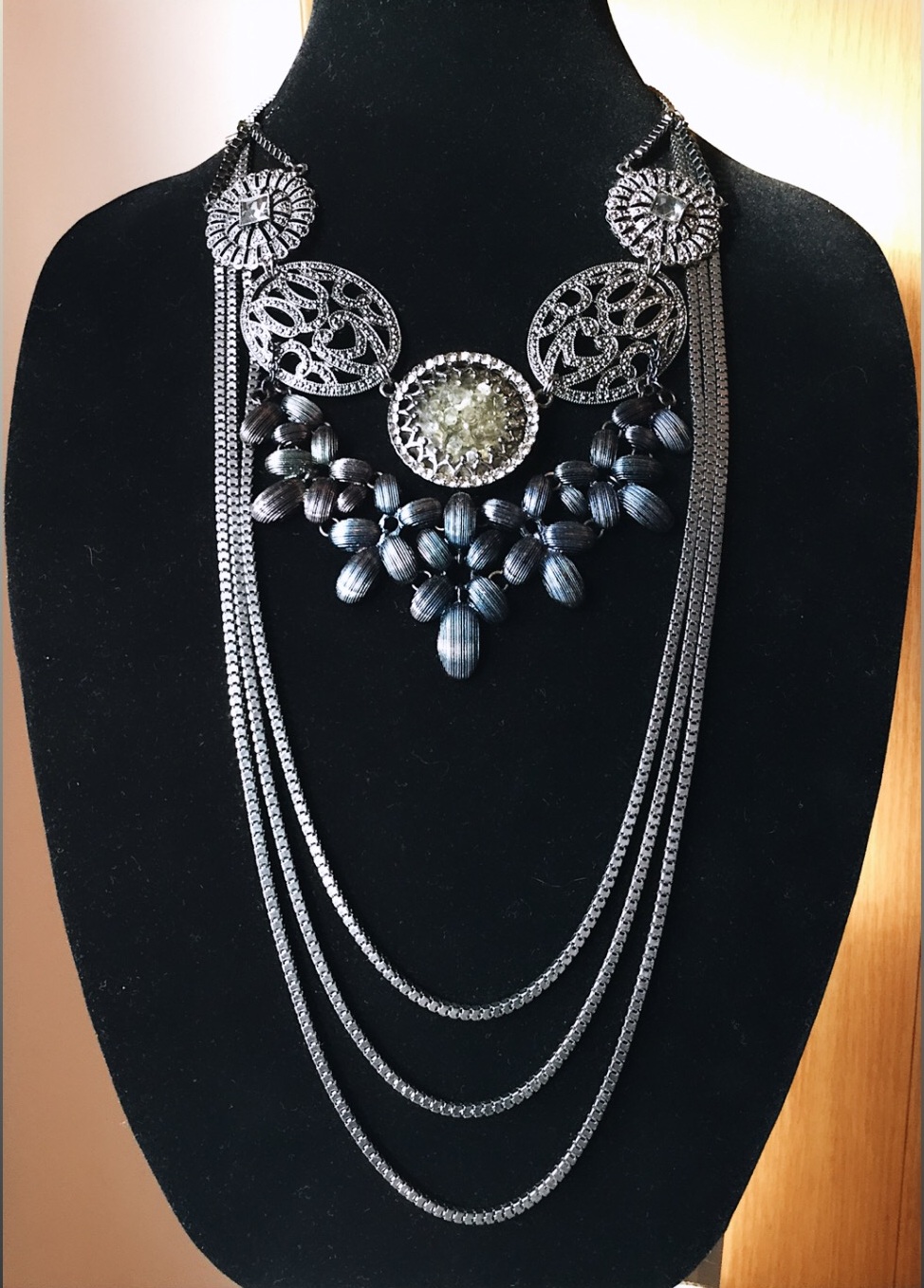 #47